About Us
A little history about myself, Mike Cockrell, and Masterwork Plumbing & Heating.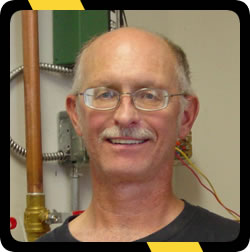 I started Masterwork Plumbing and Heating, Inc. in Dillon, Colorado near Brekcenridge in 1988. I began my business with the guiding principle that quality equipment, materials and workmanship result in the greatest value to my customers. Personal integrity, professionalism and personalized service adds still more value for my clients. Masterwork Plumbing and Heating has come to specialize in plumbing and heating repair and contractingincluding: diagnostics, trouble-shooting, maintenance, replacement and remodel projects.
I began my career in the mid-1970's in Denver under the supervision of a meticulous Master Plumber, up-dating plumbing in older homes, including urban renewal work in residences dating from the 1890's. I continued my career working under the supervision of an accomplished and skilled technician holding Master Plumber, Master Electrician and Denver Steamfitters licenses. This employer imparted immense knowledge of a wide range of plumbing and heating systems, fixtures and equipment. During this time I obtained my Colorado Journeyman Plumber license, and gained experience in heating – furnaces, steam, hot water and solar systems – continuing intense education and training.
In 1981 I moved to Eagle County to work in the rapidly--growing Vail area for five years, obtaining my Colorado Master Plumber license in 1984. I then moved to Summit County, contracting plumbing and heating for the same company for another two years, all the while gaining experience, knowledge and skills in diagnostics, technical troubleshooting, repair and replacement with an ever-increasing variety of plumbing and mechanical equipment and systems.
I strongly believe the maxim "Quality, Integrity, Value" is a meaningful directive that drives my plumbing and heating workmanship and informs the character of my business and my professional relationships. That quality and integrity means value to you, my customers.